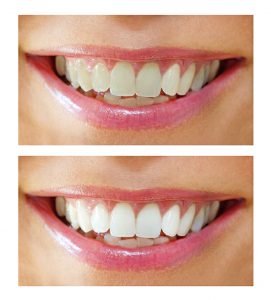 Teeth Whitening FAQ's
Q: How long does a treatment take?
A: Less than one hour is all that is needed to achieve maximum results. Initial Triple Treatment we allow 1.5hrs which includes a consultation and aftercare instructions. If you are having the follow up Double Treatment the appointment will be 1hr in length.
Q: What results can be expected?
A: This depends on each individual and the extent of discoloration, generally from 5-14 shades lighter can be achieved. The more stained your teeth the more dramatic the result will be. Teeth whitening whether done by a dentist or another technician will not whiten your tooth enamel the process will bleach the stains on the surface of your teeth. The results are also relevant to how regularly you have a teeth whitening procedure or use home whitening treatments. Where whitening is done every 6-12 months it is considered a maintenance procedure and results will be less dramatic.
Q. Who isnt able to have teeth whitening?
A. You will be unable to have teeth whitening if you are pregnant or breastfeeding, under 16yrs of age, or have outstanding dental treatment required. We don't recommend treatment if you are anaphylactic to nuts as the product may contain traces. If your teeth are highly sensitive in general then we recommend you speak with your Dentist prior to your booking. For recent lip tattoos, lip filler or lip piercings we recommend you wait at least 2 weeks before this service.
Q. Which treatment should I choose?
A. If you have not had teeth whitening in the last 2-3 months we recommend the Double Action Treatment, if you have not whitened your teeth within that 2-3month period we recommend the Triple Action Treatment.
Q. What do I need to do before my appointment?
A. Brush your teeth GENTLY 1 hr before your appointment and only consume water in between your brushing and booking. Brushing your teeth too hard can cause micro-wounds in your mouth which will be uncomfortable during the treatment so take it nice and gently. You will have a consultation over the phone with Santhi before your booking to confirm you are a candidate for this treatment. If you usually have sensitive teeth to cold etc we recommend you use Sensodyne or another "sensitive" toothpaste to minimise discomfort during the treatment. All outstanding dental work should be completed before you book this service.
Q. What happens during my appointment?
A. After a thorough consultation with Santhi our teeth whitening expert, you will be instructed to sit reclined with a cheek retractor in, this means only the teeth are exposed to the bleaching product not the gums/lips etc. Lip balm will be applied before the treatment and you will be wearing protective glasses. We recommend you bring in your earphones and phone as you will be lying relaxing for 15minute blocks without being able to talk. Santhi will be with you the entire time and continue to check on you throughout the process.
Q. How much does it cost?
A. Triple Action Teeth Whitening is usually $299, and the Double session is $199. However check for sales!
Q. Should teeth whitening be done by a Dentist?
A. Teeth whitening is purely cosmetic and non dental. The products we use are gentler than and just as effective as those used by the dentist. All our products are Australian compliant and produced to the highest standards. Teeth whitening, no matter who does it bleaches stains from the surface of the teeth it does not whiten enamel.
Q: Is teeth whitening safe?
A: We offer the latest whitening gel approved for use in Australia. We have a hygienic non-touch procedure at NO time will a technician touch you or your mouth. Our gel is gentle and safe, problems are extremely rare. Teeth Whitening is safe for crowns and veneers although these will not lighten like natural teeth. All outstanding dental work should be completed before you book this service.
Q: Is teeth whitening suitable for everyone?
A: Teeth whitening is a treatment most people want and can have, however, it is not recommended for children under 16 years of age or for women who are pregnant or breastfeeding. Do not have a teeth whitening treatment if you have gum disease or are requiring dental work.
Q: How long will a teeth whitening treatment last?
A: Teeth will maintain their fresh new appearance for around one year. Re-staining depends largely on diet and lifestyle. Smoking, coffee, tea, fruit juice, sodas all staining foods and beverages will eventually re-stain the surface of your teeth.